4 Top Cybersecurity Stocks To Watch In The Stock Market Today
Should Investors Consider Buying These Cybersecurity Stocks This Upcoming Week?
Tech stocks may be slowing down this week, but cyber threats continue to grow in our digital world today. Admittedly, even some of the top cybersecurity stocks now have mostly been trading sideways this year. But, could the current wave of investors rotating out of high-growth sectors like cybersecurity be unwarranted? For the most part, this is likely fueled by the current hype around reopening plays. However, as we often say here at StockMarket.com, tech will likely continue to remain crucial in the foreseeable future. This would especially be the case when it comes to the booming cybersecurity industry.
On top of that, the leading names in the industry are continuously updating their security software. This is the nature of cybersecurity, as threats develop, so must cybersecurity companies. Just this month, Okta (NASDAQ: OKTA) acquired cloud identity company Auth0 for a whopping $6.5 billion. If anything, this shows how companies are staying relevant and offering the best services to organizations today.
Just last week, Palantir (NYSE: PLTR) CEO Alex Karp highlighted the importance of cybersecurity software in an interview with CNBC. Karp brought up the role of cybersecurity as a national defense measure. Whether it is governments, organizations, or even regular consumers, cybersecurity is growing to become a necessity. With that in mind, here are four cybersecurity stocks to watch in the stock market today.
Cybersecurity Stocks To Watch Right Now
Palo Alto Networks Inc.
For starters, we will be looking at Palo Alto Networks (PANW). The company's flagship products include advanced firewalls and cloud-based offerings that extend to those firewalls. All of this is integrated into the company's proprietary platform. For one thing, numerous organizations transitioned to the cloud amidst the massive wave of digital acceleration last year. With its offerings providing firewall services that extend to the cloud, PANW stock would be a viable play right now. Despite all this, the company's shares have taken a breather with year-to-date losses of nearly 10%. Should investors be buying on the dip here?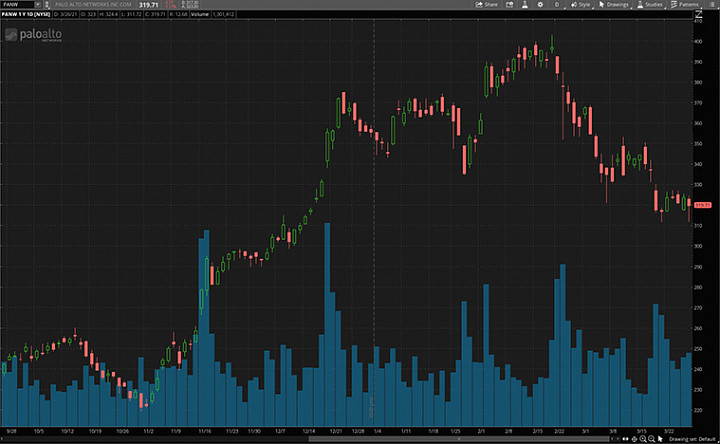 Stock performance aside, PANW has not been sitting idly by. Yesterday, it was revealed that PANW is now working together with Comcast (NASDAQ: CMCSA) subsidiary, Comcast Business. The duo will be bringing advanced security solutions to help businesses protect their network assets from cyberthreats. In terms of scale, this service will span across office, remote, and cloud environments.
Moreover, the agreement will seek to protect midsize and enterprise customers while ensuring the performance and speed of their digital infrastructure. In theory, this is possible via the integration of Comcast's network platform and PANW's cloud-delivery security platform. With Comcast Business being a U.S. leading cable provider, PANW essentially grew its market reach. Could this make PANW stock a buy now?
[Read More] Consumer Stocks To Buy Before April 2021? 4 To Consider
Cloudflare Inc.
Another cybersecurity stock to know now would be Cloudflare. In brief, the web infrastructure and website security company provide content delivery network services. Additionally, Cloudflare also has Distributed Denial-of-Service (DDoS) mitigation, internet security, and domain name server services. Simply put, the company's offerings help protect its client's digital assets while facilitating the speedy delivery of content to consumers. This would make Cloudflare a go-to for companies looking to bolster their server performances which would be crucial amidst the current pandemic. Accordingly, this would explain how NET stock is still looking at gains of over 200% in the past year even after the recent tech pullbacks.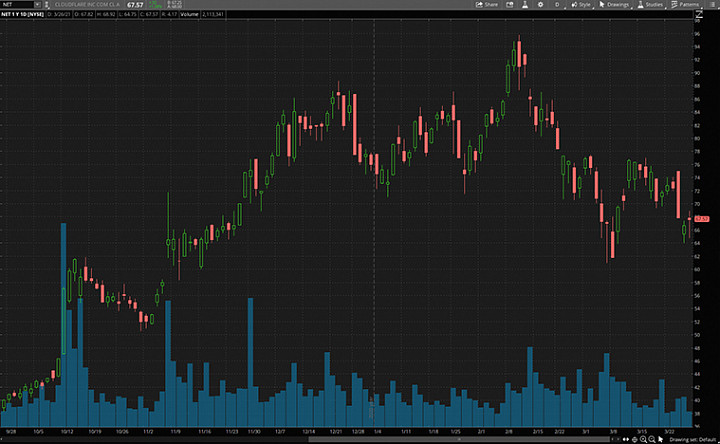 Regardless, the company does not seem to be slowing down anytime soon. Earlier this week, Cloudflare introduced new features to its Cloudflare One network-as-a-service solution. Namely, Cloudflare unveiled Magic WAN with Magic Firewall (MWMF) and new strategic partnerships with major networking and data center providers. According to Cloudflare, MWMF allows customers of all sizes to connect and secure data without relying on hardware boxes.
By extension, this Software-as-a-Service (SaaS) solution connects clients to Cloudflare's global network for secure and fast connectivity. No doubt, as Cloudflare continues to grow its cybersecurity and network offerings, the company's shares could be on investors' radars. All things considered, will you be adding NET stock to your portfolio?
Read More
CrowdStrike Holdings Inc.
When it comes to cybersecurity, few can compare to the likes of CrowdStrike. For the uninitiated, the company specializes in providing endpoint security, threat intelligence, and cyberattack response services. Notably, the company continues to play a vital role in investigating the U.S. government hack since December 2020. Four months later, the investigation is still ongoing and CrowdStrike has named numerous other companies as victims of the hack. Given its industry-leading prowess in handling this matter, companies and investors alike would be familiar with CrowdStrike. With CRWD stock down by over 10% this year, it could be on investors' radars right now.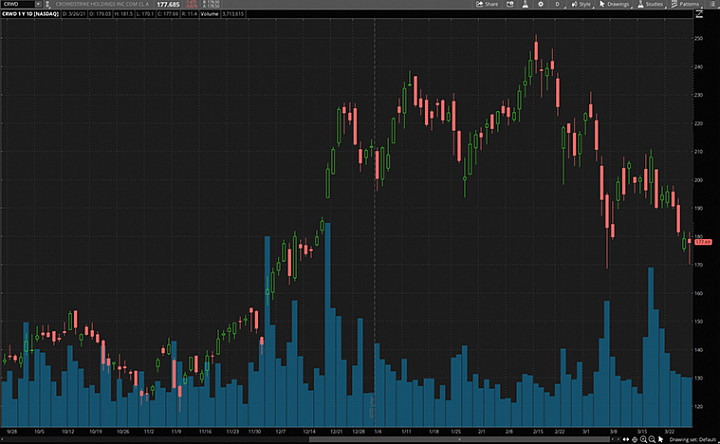 Nevertheless, the company continues to impress in terms of sales figures. Last week, the company saw green across the board in its fourth-quarter fiscal. In detail, CrowdStrike saw massive year-over-year surges of 74% in quarterly revenue and 624% in cash on hand. Furthermore, the company saw its annual recurring revenue exceed the $1 billion mark during the quarter as well.
CEO George Kutz cited strong secular tailwinds and CrowdStrike's go-to-market engine gaining momentum as key growth drivers for the quarter. Time will tell if CrowdStrike can maintain its current momentum. But, does all this make CRWD stock worth investing in now?
[Read More] Good Stocks To Buy Right Now? 4 AI Stocks To Know
Zscaler Inc.
Topping off our list is cloud security giant, Zscaler. In short, the company is a key player in the digital acceleration market. Through its Zero Trust Exchange (ZTE) service, the company protects thousands of customers from cyberattacks and data loss. Overall, it does so by securely connecting users, devices, and applications in any location. This is made possible by Zscaler's over 150 data centers globally. All of this adds up to make ZTE the world's largest in-line cloud security platform. Even with gains of over 160% over the past year, Zscaler continues to innovate and grow its business.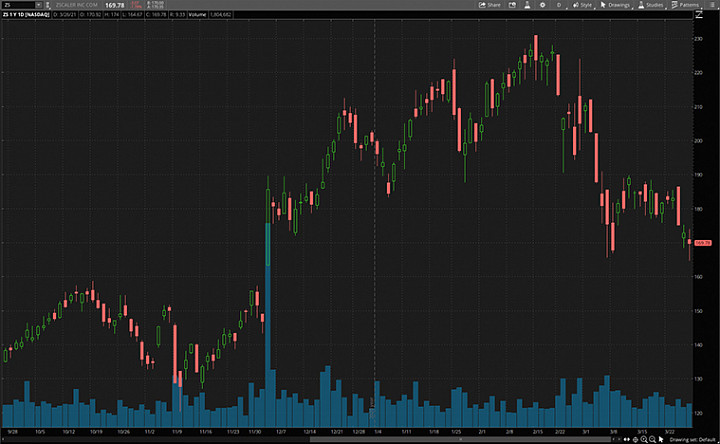 Earlier this week, news broke that Zscaler is working with fellow cybersecurity company Telos Corporation (NASDAQ: TLS). The duo will be working to streamline and automate risk management in the digital space. Although this concept may seem simple, organizations today are met with increasingly complex compliance regulations and standards.
Zscaler mentioned that these challenges could be magnified in the case of Federal agencies modernizing and building out complex multi-cloud environments. This is where Telos' enterprise cyber risk management solutions coupled with Zscaler's security solutions come into play. In theory, the deal could create a service that further simplifies IT security compliance for both private and government organizations. With Zscaler expanding its market reach, could ZS stock have more room to run this year?