Intel (INTC) Vs Advanced Micro Devices (AMD): Which Of These Semiconductor Stocks Is A Better Buy?
These Top Semiconductor Stocks Have Been Trending On Wall Street This Month.
Semiconductor stocks performed extremely well in 2020. And analysts are expecting more great things in the industry in 2021. Simply put, the tech sector continues to thrive because it owes its massive success in no small part to the semiconductor industry. Although most top semiconductor stocks fell along with the stock market trading sideways in recent weeks, there isn't a need to write off them just yet. In fact, the pull-back provides some great entry points for investors if you are in it for the long term.
The space has pulled back pretty significantly. And a lot of that could have something to do with the chip shortages. However, if you have a long-term horizon, it's safe to assume that technology is only going to continue to grow. Don't you think so? With the increasing digitization of the things we are using on a daily basis, we simply can't ignore the fact that our life is increasingly dependent on semiconductors. Be it your favorite gadgets or the new Tesla (NASDAQ: TSLA) Model S that you are anticipating, all of them need semiconductors.
With such high demand across industries, there are many reasons to be bullish on the future of the semiconductor industry. Sure, semiconductor growth may be hitting a speed bump with the shortages of chips. However, as these semiconductor companies ramp up their production, you can expect things to go up and running again. With all the hype going around non-fungible tokens (NFTs), investors need to know they too need semiconductors to function. But today, we are not going to talk about these new industries. Instead, we are looking at the stalwarts in the semiconductor space, namely Intel Corp. (NASDAQ: INTC) and Advanced Micro Devices Inc.(NASDAQ: AMD).
[Read More] Top Leisure Stocks To Watch Now? 4 For Your List
Intel Corp. (INTC)
Intel is a semiconductor titan that needs no introduction. Most would agree that the company's presence in the industry is comparable to Samsung and Taiwan Semiconductor (NYSE: TSM). Despite its reputation, it is not always sunshine for the semiconductor titan. Intel's manufacturing problems came to light back in July 2020, as there was a "defect" in its manufacturing process.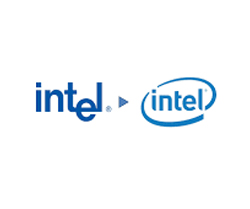 For this reason, the company would have to delay its next-gen 7-nanometer chips until late 2022. The company's stock, for the most part, has traded sideways for 2020. Since plummeting to a 1-year low of $43.61 per share during the end of October 2020, INTC stock has rebounded by over 40%.
From the company's most recent quarterly report, total revenue came in at $19.98 billion and cash on hand stood at $5.86 billion. Earlier this year, Pat Gelsinger was announced as the company's new CEO. Gelsinger has been with the company for over 30 years. He is a proven technology leader with a distinguished track record for innovation and deep knowledge of Intel.
INTC Stock Rallies After Aggressive Manufacturing Buildout Announcement
Gelsinger came up with a broad plan that mixes outsourcing with a commitment to spend $20 billion on new factories in Arizona that could help address a chip shortage. At the same time, the group is launching Intel Foundry Services to become "a major provider of foundry capacity" in both the US and Europe.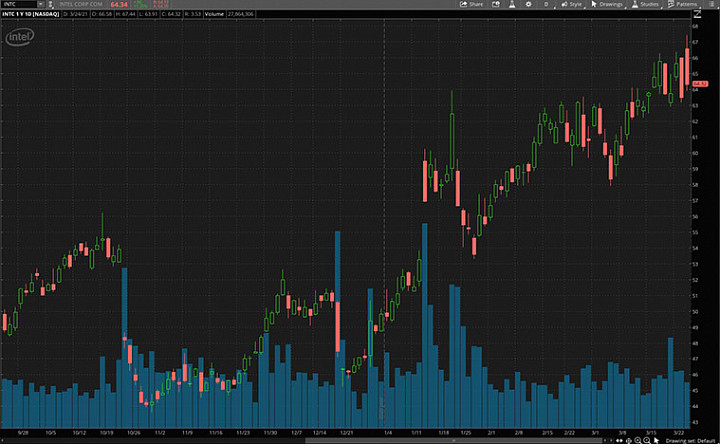 Gelsinger also said on Tuesday that Intel would rely more heavily on third-party chip-making partners, including some of its most cutting-edge processors, starting in 2023. With that being said, it doesn't mean the company is abandoning its historic roots. After all, it has been both a designer and manufacturer of semiconductors. It would still retain most production in-house. Should the multi-year strategy from Gelsinger prove to be effective, this could potentially be a turnaround story for the company after falling behind Asian competitors such as Samsung and TSMC.
"While it is no guarantee Intel can catch its competitors, much less restore this leadership, we believe Intel hired the leader that gives the company the best chance to do so," stated Cowen analyst Matthew Ramsay, who has an outperform rating on Intel.
[Read More] Best Stocks To Buy Today? 4 Health Care Stocks To Know
Advanced Micro Devices (AMD)
After spending decades behind the power curve, AMD took a technical lead as Intel's progress short-circuited. Advanced Micro Devices designs and produces microprocessors for the computer and consumer electronics industries. The majority of the firm's sales are in the computer market via CPUs and GPUs.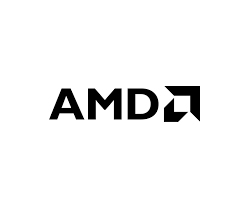 The company surprised Wall Street in late January with its fourth-quarter results, reporting smashing revenue growth and earnings year-over-year. From its latest quarterly result, the chipmaker's revenue crossed the $3 billion mark for the first time. Despite the promising growth of the company, AMD stock has been caught up in the tech sell-off in the stock market in recent weeks.
There was one point where AMD stock had dropped 21% in just a span of three weeks. But the question here, should investors be buying the dips at these current levels?
Ryzen 5000 Mobile Processors Is The Catalyst For AMD Stock
One of the key reasons why the company overperformed in recent years was simply because of the company's gains from the desktop PC market. Also, the company announced the full portfolio of AMD Ryzen 5000 Series Mobile Processors. These bring AMD's highly efficient and extremely powerful core architecture to the laptop market. This play by the company is certainly well-timed. That's because laptops are becoming an even more essential part of how we work and connect today.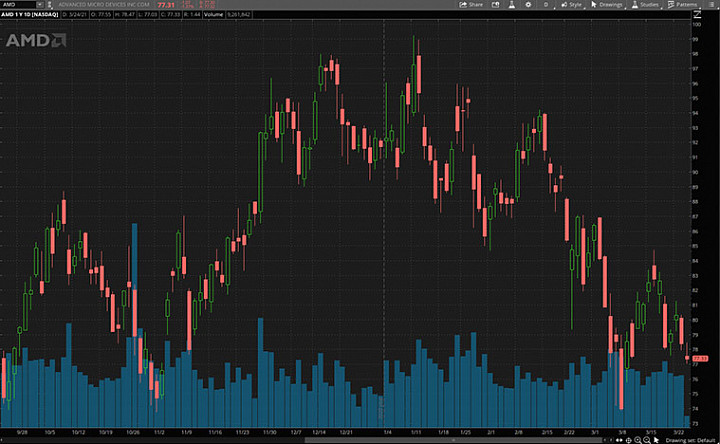 In the past, a relatively smaller proportion of laptops carried AMD chips. As laptops have gotten better sales than desktop PCs in the past decade, you could say AMD was missing out to some extent. Could this new chip change all that?
Here's what PC World has to say about AMD's hot new chip:
"Drop a Ryzen 5000 mobile processor into a laptop, and you end up with a machine that smashes expectations—a three-pound convertible can accomplish what yesterday's six-pound gaming laptop did."
[Read More] Best Industrial Stocks To Buy? 4 Names To Watch Before April 2021
Bottom Line: INTC Stock Vs AMD Stock
By and large, for all of Intel's attributes, AMD is more likely to offer faster growth rates to investors. Intel may retain the client base and the cash flows to remain a force in the industry. However, considering the fact that Intel's manufacturing buildout announcement is still fresh out of the oven, I would not bet on any significant improvement in the near term.
On the flip side, with the recent weaknesses of AMD stock, I must say it is looking more attractive these days. Moreover, its technical lead means that AMD stock will remain a top semiconductor stock to watch for the foreseeable future. And its growing fortunes should offer strong returns to its shareholders.